Multiple Services without Multiple Fees
Phoenix Home Inspector Pro provides general home inspections, thermal Imaging, professional structural, electrical, mechanical, roof, and residential inspection services. Our inspections include new construction homes, as well as pre-pour, pre-drywall, final phase, HUD, commercial property, multi-unit, real estate purchase, and builders 1- or 2-year warranty inspections.
Phoenix Home Inspector Pro is committed to providing you with a professional, comprehensive, and unbiased home inspection report, informing you of the current physical condition of the property and its improvements. We will also be extremely happy to answer any questions you may have, as well as offer some money saving tips during your general home inspection service and thereafter.
"Very knowledgeable and assisted on a last minute inspection for a nervous new home purchaser. Highly recommended!"
The Home Inspection Process
Accurate, thorough, and understandable
At the time of inspection, your Home Inspector will document his findings in a clear and concise manner, giving clients only the facts. Then, he will go through the entire report with your client in a non-alarming manner, ensuring that your clients feel safe, comfortable, and protected. All inspection reports include relevant photos and illustrations, which helps all parties understand specific components or systems. Following this, the final report will be delivered electronically, within 24 hours, with links to additional information available at their disposal. This helps them and their agent make a well-informed decision regarding the purchase of their new home.
Our 400-item home inspection will include a review of the following areas:
FOUNDATION
• Grading and Drainage
• Roof covering
• Roof structure & Attic
• Walls (interior & exterior)
• Ceilings & Floors
• Windows
• Fireplace & Chimney
• Porches, Decks, & Attached Carports
ELECTRICAL SYSTEMS
• Service entrance & Panels
• Branch circuits
• Plugs
• Switches
HVAC SYSTEMS
• Heating equipment
• Cooling equipment
• Ducts & Vents
PLUMBING SYSTEMS
• Fixtures
• Drains
• Wastes
• Vents
• Water
• Heaters
• Hydrotherapy equipment
APPLIANCES
• Dishwasher
• Food waste disposal
• Range hood
• Ranges, Ovens, & Cooktop
• Microwave
• Trash compactor
• Bathroom exhaust fans
• Heaters
• Central vacuum systems
• Garage door openers
• Doorbells
• Other built-in appliances
OPTIONAL SYSTEMS (additional charges apply)
• Swimming pools
• Spas
• Equipment outbuildings
• Gas lines
• Wood Destroying Insects *includes termites
Appliance & HVAC System RecallChek
Making Homes Safer - One Appliance at a Time
Since 1974, Americans have counted on federal law to protect them from dangerous products in their homes. If a manufacturer designs a dangerous product, they MUST recall every one sold and FIX THEM FOR FREE! The problem with the law is that it is often up to you, the consumer, to find out whether or not your appliances are a potential fire or safety hazard.
There is an online database, but you'd have to wade through more than 195 million recalled items to find out if any of your appliances are a possible hazard. As a result, an alarming number of dangerous appliances are still sitting in homes today.
RecallChek is the first service for consumer recalls in the United States. They have compiled over 195 million recalls from public records and created a fail-safe system to check for dangerous flaws in home appliances.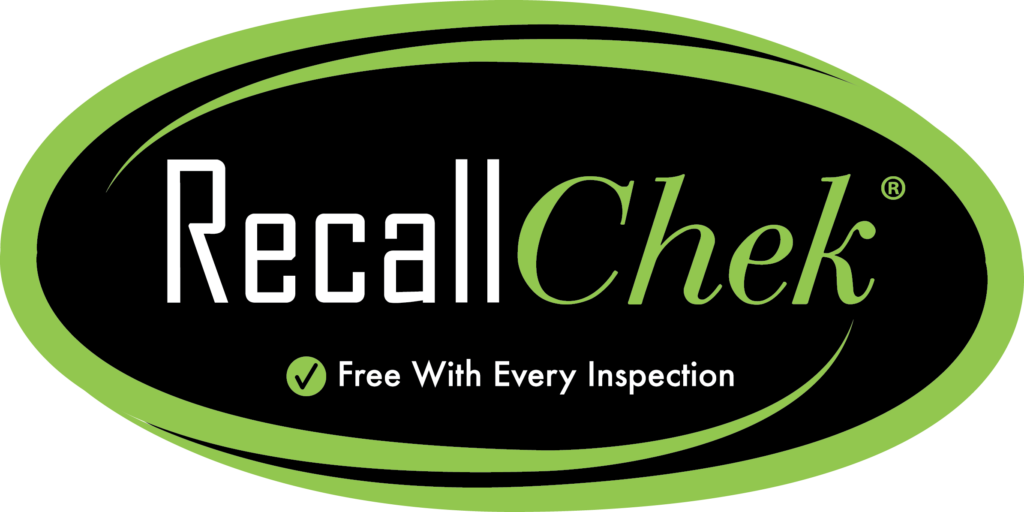 Phoenix Home Inspector Pro will copy the model numbers, where accessible and/or visible, from your built-in home appliances and HVAC system. Then, we will submit your recall model number report to RecallChek.
Note: Only numbers that are accessible and or visible at the time of inspection can be submitted.
At RecallChek headquarters, your model numbers are computer matched against millions of recalls, using RecallChek's Model Number Algorithm (MNA). Then, RecallChek checks the report, by hand, to eliminate wrong numbers from worn plates, ID cards, and/or other problems. In the event of a potential recall, RecallChek issues a report within 48 hours of submission, which includes the following:
• The nature of the recall
• Where the product was sold
• How to remedy the defect
• How to get the product or item repaired or replaced (in most cases, absolutely FREE)